About Us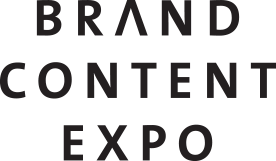 Brand Content Expo Track
Featuring leading content experts, the Brand Content Expo will continue to explore the latest and greatest in branded content and discuss what's next on the horizon for this burgeoning space.
Whether you are a brand marketer or an entertainment content producer, sessions at the Brand Content Expo track will help you step up your content game!
And don't forget to explore the Entertainment Marketing Summit track to learn more about effective audience-building strategies and the latest trends in the content development space.
/ / Meet brands and agencies creating work at the intersection of marketing and content. / /
/ / Discover the latest strategies for effective audience-building, delivery and measurement (including ROI) of branded content. / /
/ / Connect with content creators from across the marketing and entertainment industries. / /
Brand Content Expo
Presenting Upfront Partners